It is difficult to cope with a loss, but it's best to be prepared for the financial duties that follow.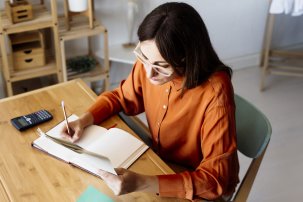 Financial steps to take when a loved one dies.
The legal and financial decisions you must make after losing someone you love can be difficult. The last things you want to think about are financial matters, but someone needs to plan the funeral, close bank accounts, re-home pets and pay final bills. You may feel overwhelmed and uncertain about what steps to take. If the job of handling those personal and legal details falls to you, you will need a checklist to help manage the estate and tie up loose ends. Here are the financial steps to take when a loved one dies.
Ask for help.
Grief can sit heavily, but you don't need to carry the weight alone. There are hidden costs of managing an estate, and the right professionals can help you navigate the necessary steps. First, determine if your loved one had a financial advisor. If so, this should be your first point of contact. A financial advisor can locate financial accounts and coordinate with estate attorneys to get the needed information. If there isn't a financial advisor, don't hesitate to enlist the help of an attorney or family members. Managing someone's finances after they pass is a big job, so don't try to do everything yourself.
Protect physical assets.
If your loved one lived alone, take steps to secure the home. If there are houseplants or pets, arrange for someone to water the plants and care for pets. Remember that theft and fraud are risks for homes and property left unattended. By protecting the assets, you won't have to worry about break-ins or other family members walking in and taking something. If the deceased person had tenants or housemates, start the eviction process right away. You also want to gather valuable items and remove them from the property. While you hate to think someone would take advantage of a loved one, it's best to assume the worst and protect against it.
Find out about existing funeral and burial plans.
If you openly discussed funeral or burial wishes, you may already know what your family member wanted. The deceased person may have prearranged or prepaid funeral arrangements. If not, look for a letter of instruction in the deceased's papers. You can also call a family meeting to discuss what the funeral will look like. Contact a funeral home to learn about options and associated costs. Then, talk with other family members about what the person wanted, what you can afford and what the family wants.
Get several copies of the death certificate.
You typically order death certificates from the funeral home. People often underestimate how many they need, so request multiple copies. The funeral home can help you estimate how many to order, but it's generally recommended to get at least 20. You'll need them for financial institutions, insurance companies, service providers and other organizations. Providing this proof of death ensures that life insurance proceeds and accounts are being claimed legitimately and helps to protect against fraud.
Forward mail.
You don't want mail piling up at your loved one's home. It's a telltale sign that the property is vacant, which can invite burglars and vandals. Go to the post office to request the mail be forwarded to another address. You can put in a forwarding order to send the mail to yourself or another person handling the immediate affairs.
Find the original will and the executor.
A will or trust are legal documents that can guide many decisions that must be made when someone passes away. If the person had one (or both), locate the original copies. The will or trust is crucial for locating the executor and distributing property and assets. Unless the estate is small or the trust comprehensive enough to include all assets, the executor may need to start probate proceedings through the court. The process is intimidating if you aren't sure how it works. It's best to work with an experienced estate attorney because the laws vary by state. In the U.S., 18 states have adopted the Uniform Probate Code. The code has specific guidelines for smaller estates that make the probate process simpler and less expensive. For example, Texas allows a streamlined transfer of estate assets in certain circumstances if the estate's value is less than $75,000. However, Michigan caps its "small estate" at just $15,000.
Meet with a probate and estate attorney.
State laws that determine how a deceased person's estate is handled are complex. While finding an attorney isn't usually required, having one makes administering an estate easier. Each state has its own set of laws that govern how assets are distributed, and it's the executor's job to make sure all applicable laws are followed. Your loved one's financial planner might recommend an attorney. Otherwise, ask family and friends for recommendations. Consider meeting with at least three attorneys to discuss pricing structure and expectations before hiring one. And if you can't afford an attorney, your area may have a legal aid program that offers free legal services. Be sure to check with the bar association in your community. However, remember that probate legal fees are paid from the estate and not your own expense.
Locate important financial documents.
Part of managing a deceased loved one's finances is tracking down the decedent's accounts. This is another scenario in which the deceased's financial advisor can help. The planner will have access to important financial information. It's best to start with a list of assets your loved one owned and begin the process of locating the documents associated with the assets. To find the information, you may need to do some detective work. Sort through the person's paperwork to locate financial documents and check your loved one's mail for at least three months to discover accounts you may have overlooked. It's impossible to list all of the possible documents you'll need, but be on the lookout for bank and investment accounts, retirement accounts, mortgage and other loan statements, insurance policies, tax returns, utilities and bills.
Understand what isn't part of the estate.
While your loved one may have owned many assets, some won't be part of the estate. It's essential to know the difference between what is distributed directly to beneficiaries and what may need to go through probate. Any accounts that are pay-on-death or transfer on death, such as 401(k) plans or other retirement accounts, aren't part of the estate and can bypass the probate process. Bank accounts or real estate held jointly may pass directly to the joint owner or owners, and life insurance policies can go to the beneficiary. For assets outside of the estate, your role is to notify the institutions and provide a copy of the death certificate upon request. If a deceased person had debt, generally the estate is responsible for paying outstanding balances. The laws surrounding what debts are paid and in what order are complex, and some debt may be discharged upon death. Consult with an experienced professional before paying any debt your loved one may have owed.